What is the best whiteboard paint to get?
Whiteboard paint is a fantastic tool for any home or workplace and opens a whole new world of creative and productive possibilities at the stroke of a brush. The great news is that there's more than just one type, meaning that you can fine-tune your writable wall solution to your own needs. But, if you're new to the game you might have a little trouble deciding which whiteboard paint is for you. Worry not, for we hear you! Here's our quick guide "what is the best whiteboard paint" that will let you learn the ins and outs of whiteboard paint, together with a short rundown of the different writable paints that ESCREO has to offer.
What is whiteboard paint?
Imagine being able to paint your walls or other surfaces in your house, workplace, school, coworking space, coffee shop, or retail business, and then writing on them using dry erase markers before effortlessly and cleanly erasing them. That's exactly what a high-quality whiteboard paint product can do for you.
Because it adapts to your area and décor, whiteboard paint is a popular alternative to standard whiteboards. Any flat surface may be transformed into a platform for invention and creation, and then wiped away as if something was never there.
Whiteboard paint in different spaces
Workspaces – Make your office walls, desks, and meeting rooms into a repeatedly erasable canvas where your team can fully explore ideas, create productivity stations, schedules, plans, workshops, and more.
Classrooms – Create large, erasable study surfaces in schools, creative areas, activity rooms, and drawing rooms. Teachers and students alike will be able to communicate, connect, and learn more quickly in fun and engaging ways.
At home – From menus and shopping lists in the kitchen through to art areas, bulletin boards, and games, whiteboard paint goes a long way in making a home both fun and functional.
Types of Whiteboard Paint
Ok, now that we covered the basics, it's time to get into it. Here are the different types of whiteboard paint you can get, and what they are awesome at:
White whiteboard paint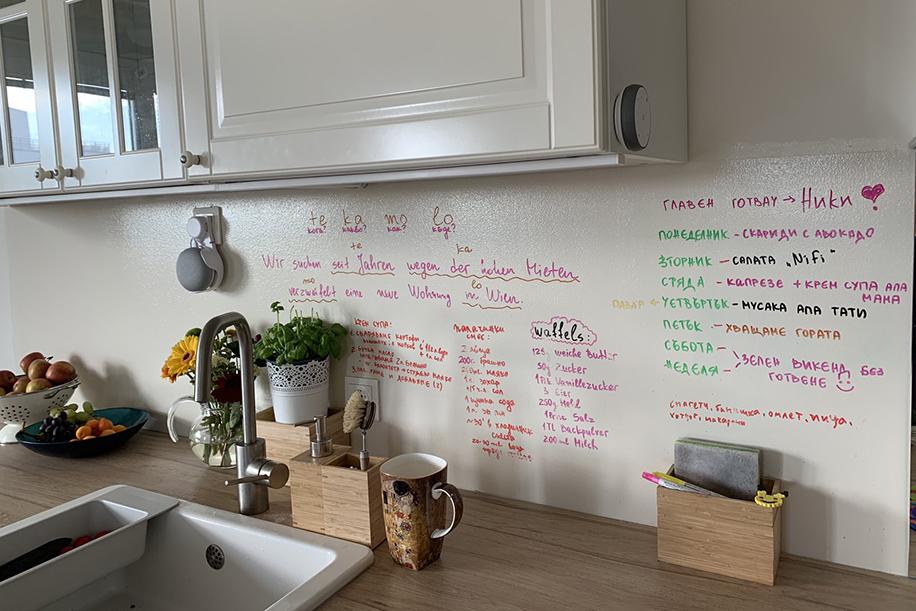 Simple and effective, a classic whiteboard paint is for those who prefer a more conventional look or want their whiteboard wall to seamlessly blend in with the rest of the home or office. By choosing this type, your writable wall will have a bright and totally clean look, meaning that whatever you choose to write or draw on it will pop out, with brilliant colors coming through with a white background.
Best for: Conference rooms, coworking spaces, gyms, retail shops, coffee shops, kitchens, and anywhere else a white backdrop would fit in best.

Clear Whiteboard Paint
Clear whiteboard paint lets you have a writable surface while retaining the color underneath. This is perfect for people who want to use marker pens on their wall but keep things invisible when it's not in use. It's every bit as writeable as the white variant, but more discrete as needed. Find out more about our transparent or clear whiteboard paint.
Best for: Modern and creative companies who want a modern look and feel, and homes where the walls are already painted in a certain color.

Magnetic Writable Paint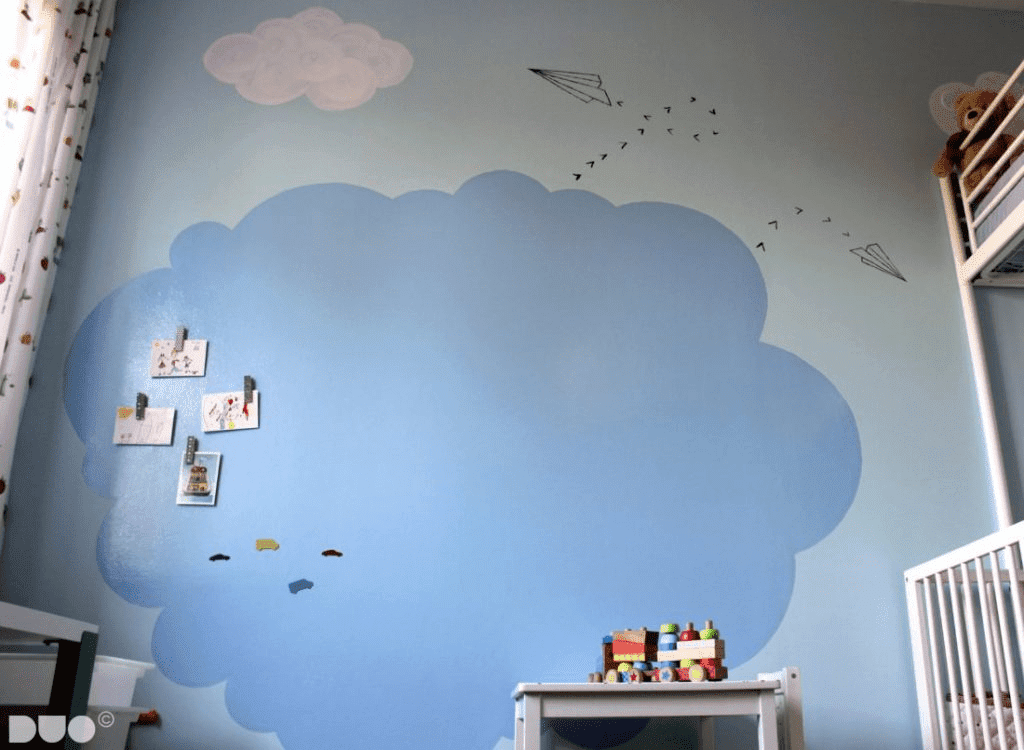 Why stick with just one function if you can have more! With magnetic whiteboard paint, you get a magnetic surface alongside your writable paint.
The benefits of using magnetic paint include the ability to put up magnetic hooks, pins, and anything else that you want to pin up on the wall without having to use nails or adhesive.



Best for: Board rooms, conference rooms, meeting areas, and even classrooms or kitchens where you want to display or hang papers, artworks, reminders, photos, and more.

DIY whiteboard paint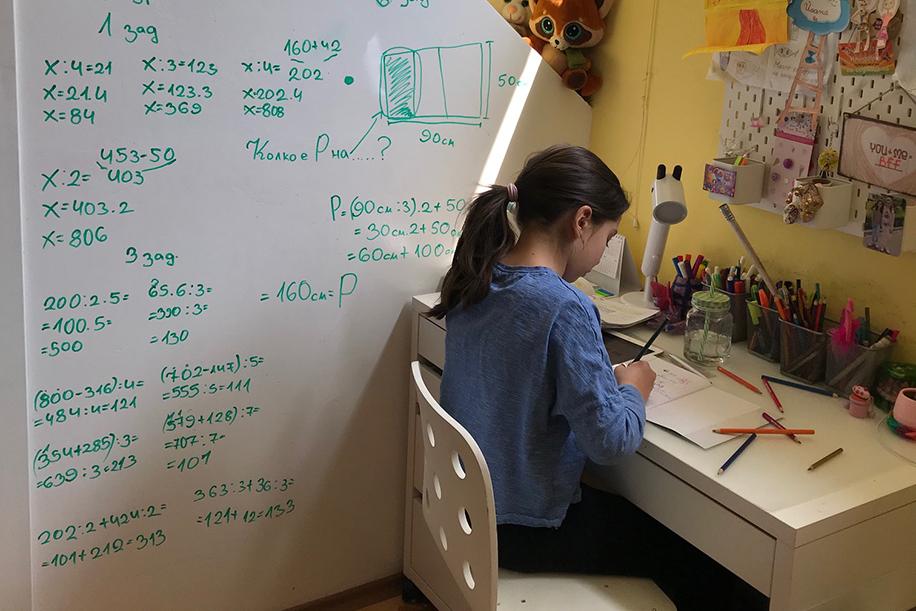 At ESCREO, we have a variety of writing paint options, but our Home Works writable whiteboard paint is specifically designed for use in your home, allowing you to create safe and creative writing surfaces anywhere you please. With no industrial-grade chemicals and silver ions with antibacterial/antimicrobial properties, it's perfect for homes with families and young children.
Best for: Children's bedrooms, hallways, living areas, kitchens, hallways and anywhere else creativity and fun may strike!
Your walls can do so much more
If you have some extra wall space that you want to keep doodle-free, it still doesn't mean you can't make the space as good as possible. By using ESCREO Clean Air, you can still make the most of your walls with a non-toxic eco-friendly interior paint which reduces indoor air pollution by more than 90.1%.
This is thanks to an enhanced mineral by Smog Armor that actively attracts and neutralizes VOCs, airborne chemicals, questionable smells, carbon dioxide, and other harmful pollutants. And, once the air purifying paint has absorbed the airborne nasties, that's where they'll stay.
We're all about well-being!
At ESCREO, we're all about wellness. Since 2013, we've been changing the world for the better and are passionate about changing our environments to help us be more productive and creative. And, when we talk about environments, we're not just talking about your walls!
We are constantly working hard to make our products more environmentally friendly by offsetting the carbon footprint of our products and services and can proudly say that we are completely carbon neutral: the first writable paint company to be so. We don't use paper in our invoicing, and any time we get an order, we plant a tree! So, now that you know how to choose the best whiteboard paint for your needs, it's time to get creative! Welcome to the family 😊.